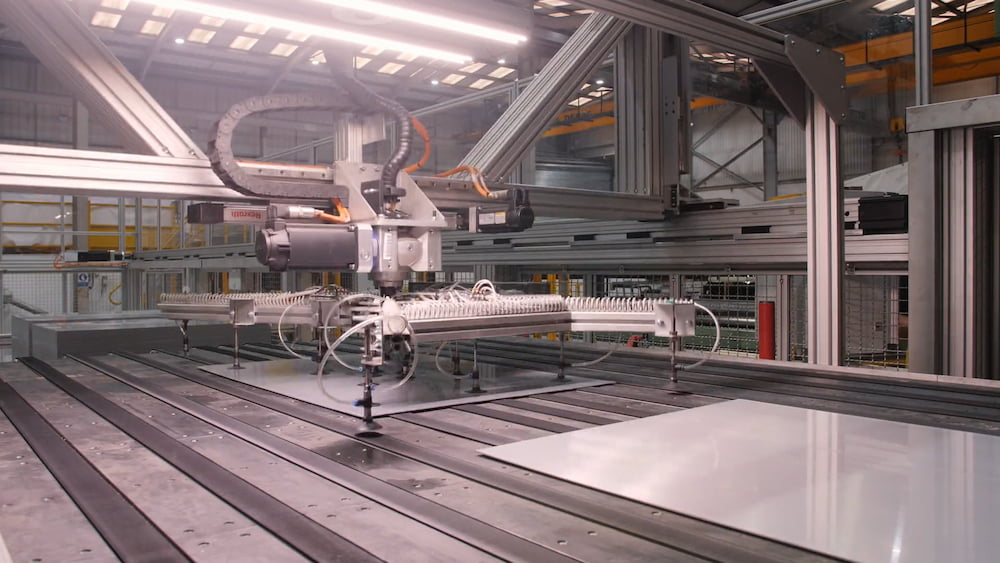 Customer Problem:
• A leading manufacturer of metals asked Transicon to design and build a bespoke Pick and Place machine for their Press Line.
• The line was to be adapted to allow it to be used for production of Aluminium Trapezoidal blanks for automotive customers.
• The press line had an existing automated magnetic stacker that carried blanks and positioned them above pallet locations. This was unsuitable for the proposed parts due to:
Them being made from aluminium, and
The shape and potential for the blanks to land unevenly on the conveyor affecting the alignment of the finished stacks.
Transicon's Solution:
• Transicon designed and built a four axis high-speed pick and place stacker using vacuum pads to handle both aluminium and steel blanks.
• A Keyence vision system incorporating dual high resolution cameras was integrated with the motion control to detect the variation in part position on the conveyor allowing blanks to be precisely picked resulting in a stack alignment of better than 0.5mm
• The rotation function of the gripper head also allowed alternate trapezoidal parts to be stacked to a single pallet.
• A dual pallet cart system with automatic loading & unloading was used to enable continuous production.
• The whole system was delivered and integrated with the existing production line with Transicon carrying out the full mechanical and electrical installation.
If you feel we can be of assistance with any on-going or future projects, don't hesitate to get in touch, a member of our team would be more than happy to assist you